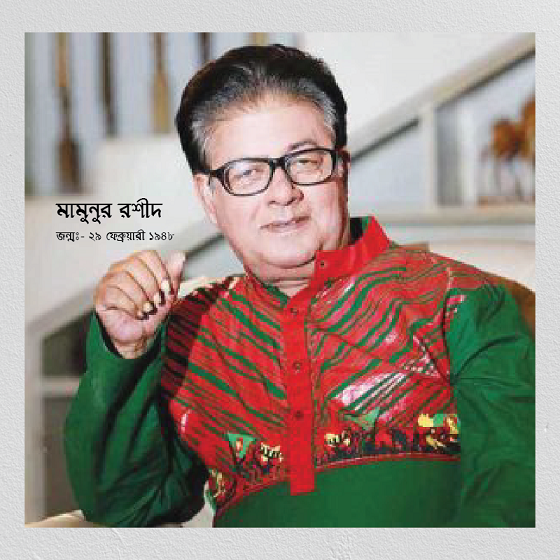 Bangladeshi actor, director and scriptwriter, all rolled into one, Mamunur Rashid has been around in the Bangladeshi film industry for a long time. He began his career as an actor when he founded the theatre troupe Aranyak in 1972. He produced several plays with his troupe, the most prominent of which were Rarang and Ebong Biddyasagar.
He performed in various television plays and starred in films like Kittonkhola (2000), Priotomeshu (2009), Monpura (2009), Mrittika Maya (2013) and Nekabborer Mohaproyan (2014), among others. Apart from an illustrious career, Rashid is also the recipient of the Bangla Academy Literary Award in 1982 as well as honoured with the Ekushey Padak in 2012, before he joined the cast of Bhuban Majhi (2018).
মামুনুর রশীদ (জন্ম: ফেব্রুয়ারি ২৯ ১৯৪৮) একজন প্রখ্যাত বাংলাদেশী নাট্যকার, অভিনেতা ও নাট্য পরিচালক। স্বাধীনতা উত্তর বাংলাদেশের মঞ্চ আন্দোলনের পথিকৃত। তার নাট্যকর্মে প্রখর সমাজ সচেতনতা লক্ষনীয়। শ্রেণী সংগ্রাম তার নাটকের এক গুরুত্বপূর্ণ বিষয়বস্তু। তিনি টিভির জন্যেও অসংখ্য নাটক লিখেছেন এবং অভিনয় করেছেন। বিভিন্ন সামাজিক ইস্যূ নিয়ে, শ্রেণী সংগ্রাম, ক্ষুদ্র জাতিসত্তা অধিকার আদায়ের নানা আন্দোলন নিয়ে নাটক রচনা ও নাট্য পরিবেশনা বাংলাদেশের নাট্য জগতে মামুনুর রশিদকে একটা আলাদা স্থান করে দিয়েছে।মামুনুর রশিদ এর জন্ম ২৯ ফেব্রুয়ারি । লিপইয়ার হওয়ায় দিনটি ৪ বছর পরপর আসে । নাট্যকলায় বিশেষ অবদানের জন্য ২০১২ সালে তিনি একুশে পদকে ভুষিত হন
Early life and education
Rashid was born on 29 February 1948 in the village Bhabandatta under Ghatail Upazila in Tangail District. He completed his SSC from Bolla Coronation High School.
Career
Rashid moved to Dhaka in 1963. Rashid started writing drama plays in the 1960s. He founded Aranyak in 1972. He served as the chief secretary of the troupe. One of the most notable production of his group is Rarang which deals with the life of Santal. its another production is Ebong Biddyasagar. Another stage play, titled, Che'r Cycle was written and performed by him.
Rashid performed in television plays "Suprobhat Dhaka", "Somoy Osomoy", "Ekhane Nongor" and "Pachar".
Rashid acted in films Monpura (2009), Mrittika Maya (2013) and Nekabborer Mohaproyan (2014).
Rashid performed in radio plays including Kabor (1972) and Paruler Shangshar (2011).
He performed in Mostofa Sarwar Farooki's web series Ladies & Gentlemen.